Our Story
Telegraph Cove Marina & RV Park
Stephanie & Tyler
In 1997, Stephanie was in Telegraph Cove preparing for her job as a summer naturalist. She was knocking on doors looking for a place to live when she met Tyler – her future husband and business partner. Fate is funny sometimes…..
I first visited Vancouver Island while attending a field class at Bamfield Marine Station in the early 1990's with the University of Calgary. Soon after, I hiked the entire length of the West Coast Trail on a whim. The island became my obsession and I knew I would end up here one day. The sounds of eagles, the smell of the ocean and the vibrant, alive green of the massive trees held an allure I had only dreamed of.
Read More
I visited Telegraph Cove on my first sea kayak experience shortly after my initial introduction to the Island. I eagerly returned the following year for a double kayak trip to Johnstone Strait and Nootka Sound. While on the first leg of the trip, I slept on a small outcropping overlooking the Strait. In the middle of the night, I woke to the incredible sound of a killer whale exhale. Just below me was the outline of a mom and baby killer whale in the phosphorescence! That moment changed my life. I knew I had to be on Vancouver Island to pursue my passions. I went back to Calgary after my trip, quit my job and moved to Victoria a few weeks later.
In the spring of 1997, I was in Telegraph Cove getting situated for my summer job as a naturalist and deckhand at Stubbs Island Whale Watching. It was such a magical place to me, so it was no surprise when I "bumped into" my future husband! That summer, in addition to working for Stubbs, I volunteered and fundraised for the Johnstone Strait Killer Whale Interpretive Centre (now know as "The Whale Museum") where I presented slideshows at various campgrounds in the area. My goal was to educate visitors about killer whales and the importance of Whale Watching Guidelines. My purpose was to instill a sense of respect for wildlife. My belief was, the more people knew about the wildlife, the greater the respect they would have and do their best to reduce their impact on the environment as a whole. The following summer I worked for Bion Research and the BC Parks Warden Program at Robson Bight. I continued to take my slide projector and generator to remote kayak camps and campgrounds to present slide shows and spread the word. I was 6 months pregnant when I finished up with the Warden Program. Living in a tent on a remote island took its toll!
As part of the final stages of my Master's thesis in 2002, I applied for and received a $100,000 DFO grant. That grant was the official beginning of the Straitwatch North Program modeled after the southern Vancouver Island Soundwatch Program.
While my life took me in a different direction following my Master's Program, my heart has always been on Vancouver Island. Our family is a product of island living and the path our kids have taken is an indication of our profound connection to this place. Our oldest son (Jake) was a fishing guide at Sund's Lodge on Malcolm Island for 3 years. He followed that up with a year at Rugged Point Lodge in Kyoquot. He met his fiancée, Alex, at Sund's Lodge. Alex has a 20+ year history at Echo Bay in the Broughtons. Jake now attends VIU in the Heavy Duty Mechanic Program in Nanaimo. Our youngest son (Josh) was accepted into the Canadian Coast Guard College and now attends school in Sydney, Nova Scotia to complete his training as a Marine Engineer. He was a huge asset to our business in 2019 and 2020 and will be sorely missed by us and our guests as he pursues his endeavors!
My heart, my soul, and my family are embedded in this place. I live here because I can and I realize I am lucky to do so. I am a better human being as a result. I look forward to the next chapters of my life……
EDUCATION
Bachelor of Science in Zoology, University of Calgary, Calgary, AB. 1995
Masters of Arts in Environment and Management, Royal Roads University, Victoria, BC. 2002.
Thesis: Designing an Education Program to Manage the Undesirable Effects of Whale Watching.
Masters of Acupuncture and Oriental Medicine, Oregon College of Oriental Medicine, Portland, OR. 2008
OTHER
Intermediate Marina Management, Association of Marina Industries. Fort Lauderdale, 2019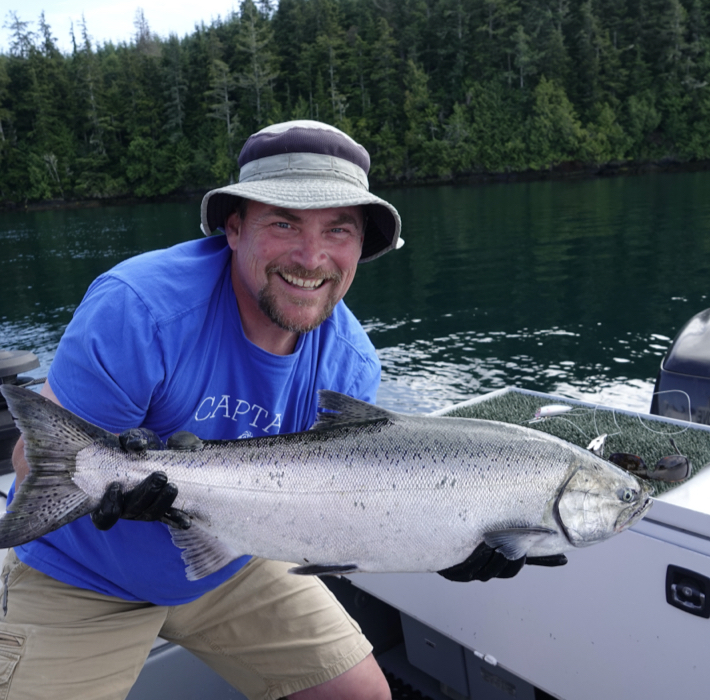 Telegraph Cove has been part of our family since 1984. We came here on a summer holiday that turned into a multi-generational lifestyle. For almost 40 years we have come to fish, dive, swim and explore the Island. 
Stephanie and I first met at Telegraph Cove in April 1997. Our passions brought us together here, but our lives and careers took us beyond for the better part of 20 years. We got married and raised our kids – always returning to the North Island to maintain our connections. In 2019 that connection hit fast forward. Our kids grown; our previous businesses behind us and our desire to divest from mainstream brought us back to live and work in Telegraph Cove as Life 2.0.
Read More
Our lifestyle is designed to work, live, and play within the natural world we love. Stephanie and I love all things outdoors. The whales brought her here and changed her life. Knowing they still swim outside her door in 2021…. keeps it all real. In my past life, I pursued all things with fins, feathers, and fur. To this day, I continue to embrace the wild places, the clean water, and the rugged landscapes they roam. Telegraph Cove is an extension of all things us.
Welcome to the Sunny side of the Cove. Thanks for joining us.
EDUCATION
Bachelor of Arts in English, Washington State University, Pullman, WA. 1995
OTHER
USCG Master 50-Ton Near Coastal License 2016
SVOP (Small Vessel Operator Proficiency), MED A3, VHF Certificates 2018
Intermediate Marina Management, Association of Marina Industries. Fort Lauderdale, 2019
With the help of our two sons, Jake (22 yrs) and Josh (19 yrs) we will continue to put our brand on Telegraph Cove. We will do it with thought, integrity, and passion. We will do it in a way that reflects our core values and collective years of local history. The existing footprint has largely been shaped by others. The emerging footprint will be shaped by us. This process of rebranding comes with a significant amount of change. Our "new" Telegraph Cove is now a canvas with us as the artists. The bones already in place, our goal is to make it better. That is our mission – our mantra: to make Telegraph Cove a better place.